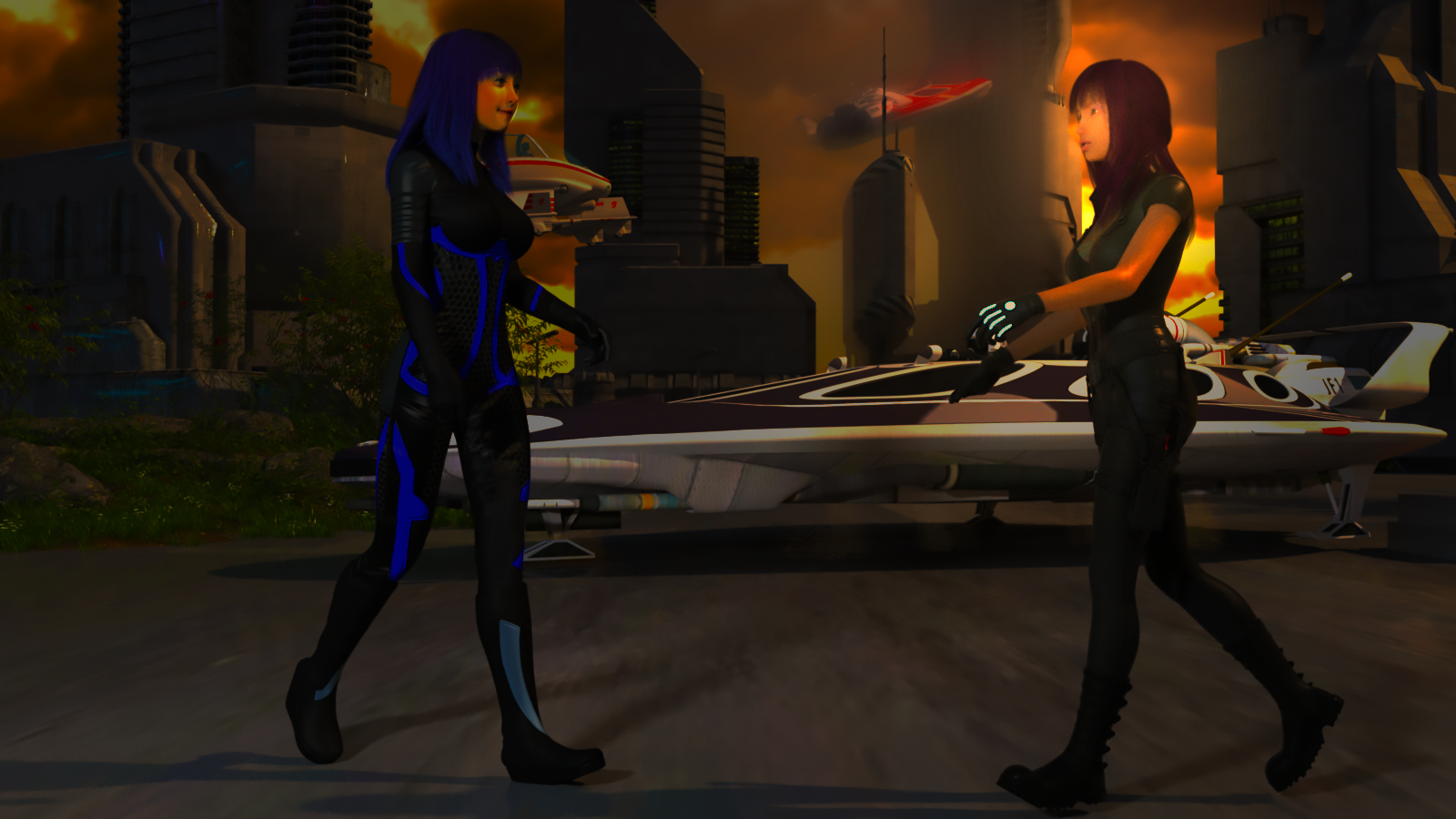 This is just the beginning of a new story based on my own "mind  stories" from when I was a kid.
I began building this world from the visions I got from the first of these pictures I created with Daz 3D and put finishing touches on using Photoshop.  This will be updated once I have more of the world built. Oh and this will also be an inspiration for Dragon Extinction's next album. 
Back Story and World building for Andromeda and Vega and their Dimension
    Andromeda Mael was the constant partner to Drake Blackwell. They worked as a team solving crimes that were out of ordinary occurrences in their Universe, and sometimes in other dimensions.  At one point Drake decided to take a new position behind the scenes. Thus enters Vega Landerak. She grew up with Andromeda and is her best friend. Also she is an agent that has been assigned to work with Andromeda. But only recently. Vega was working on an assignment to investigate some unusual occurrences that seemed to be dangerous to the universe in which they lived. Vega was working with two partners, a good friend named Kirakya and Devick, they were both killed when things went terribly wrong. Vega was badly injured and took a long time to recover. Of course Andromeda was given that assignment and Drake decided since those two worked well together in the past he felt Vega needed to get back to it. He thought this would be a very good team and would help her heal; both in her spirit and mind. 
    Andromeda was sent to Aurora, a city living out in space in the galaxy Andromeda.  Rather ironic since that was also her name. That is where she waited for her new "Stinger" class space car. This "flying car" is both a car that can hover over roads or fly on a planet or within the confines of a space city like Aurora. It can also travel relatively short distances in space. This was a brand new "car" that she was able to purchase after completing a very important case. It needed to be customized to better fit her needs. Once completed, she was able to remote program it to fly to where she was in Aurora, which was in an open area where these kinds of vehicles would land and take off from.
        Once it arrived she was awed by its beauty. Andromeda wanted to rename it but would wait until Vega arrived.  She checked it out for a bit then got in and once she became familiar with the info screens and controls, deiced to take it on a short spin around the area. Just as the space car rose up a bit she got a call from Vega, who was nearly to arrive so Andromeda landed.
     Vega emerged from the taxi waving wildly and grinning broadly at Andromeda. The two hugged and briefly kissed then talked for a long time. So much to catch up on. Of course while standing there the simulated sunset became night time. Andromeda put her arm around Vega's shoulder, trying to console her over the loss of her team and friends.
    Andromeda and Vega went to check out their new epic ride. They stood there for a while both thinking and saying names to each other they thought would work for their space car.  They both agreed on a name they hadn't thought of in a long time.  Back when they were younger and traveled across dimensions on their adventure vacations. They ended up in a very strange version of Earth. There they met the with the people there who lived in various Land Stations.  A certain person they learned of had come there, not by her own wish, but through her dreams.  She had thought where she had come from was the "true" Earth. But her life was lonely and hard there. That person was named Mia.  She hadn't been in this dimension for very long and was still adjusting. Both Andromeda and Vega and spent some time with her. It was a time they never forgot. So even though it was a strange name for a space car they came to love it.  The thing is of course, the anti-gravity Stinger has such advanced AI they could have complex conversations with it. Naming it Mia felt right to them. Andromeda and Vega finally settled into their seats closed the cockpit and then "Mia" rose up until it began its journey into space to dock with a much larger ship and head off to the destination they had been assigned.